Wednesday, August 20th at 6pm we welcome Fish Brewing Company of Olympia to the Mint!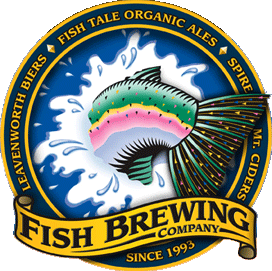 Fish Brewing Company is a small, locally owned craft brewery producing truly authentic British-style organic ales and German style lagers for beer lovers.
It will be a fantastic night with great beers and ciders, food pairings and, of course, a raffle with prizes. We can't wait to have you join us!
Here are the beers and ciders we will be featuring:
Beers
Leavenworth Biers Premium Lager
A real, premium lager, this brew shows the distinct influence of malt and hops but with a slightly softer side. Combining traditional Bavarian pilsner flavors with the bolder Northwest craft beer profile, the result is unusually tasty.
ABV – 5%
Fish Tale Ales Beyond the Pale Ale
This medium bodied pale ale presents a rich and complex malt character derived from a bold blend of four different types of grain wonderfully balanced by five complementary varieties of hops. The result is a smooth and refreshing libation packed with fresh fruit and spice flavor and a delightful floral and citrus aroma.
ABV- 5% IBUs – 35
Leavenworth Biers Whistling Pig Hefeweizen
Fruity, refreshing, and touched with malt sweetness, Whistling Pig Hefeweizen is a bright reward for days under the sun. Crisp yet easygoing, Whistling Pig is an unfiltered wheat bier. It's classically cloudy appearance characterizes the best German hefeweizens. That a hefe this authentic is born in the great Pacific Northwest makes Whistling Pig Hefeweizen all the more delightful.
ABV – 5.4%
Fish Tale Ales Hodgson's Bitter End IPA
A full-bodied, very hoppy India Pale Ale, Hodgson's Bitter End is one of the original classic Northwest IPAs. The bitterness, hop aroma, fruitiness, and high mineral content offer an adventure in every pint.
ABV – 6.5% IBUs – 70
Ciders
Spire Mountain Dark & Dry Apple Cider
Savor this refreshing glass of complexity. Dark & Dry's assertive tartness is pleasantly balanced by a hint of caramel and brown sugar. More rounded and intricate than its sister ciders, this potion will appeal to beer aficionados, wine devotees, and cider enthusiasts alike.
ABV – 5%
Prices: 12oz Mugs- $3 Pints- $4 Pitchers- $14